Cruises are famous for their variety of entertainment but there's been a shift recently away from big broadway shows and instead a focus on more intimate venues with recognized branding. Norwegian Cruise Lines has done a fabulous job of this on their more recent ships and the "George Lopez Comedy Club" on Carnival elevated the experience from just a room with some funny man to the leading comedy program at sea ... an amenity that Heather and I would specifically book cruises to take advantage of. To date though, nobody has done a good job with magic shows but Princess believes that it might have found the magic with their Spellbound venue developed in partnership with Magic Castle.
Are you ready to add a bit of magic to your romantic Princess cruise? Then let's read on ...
Key Takeaways
The Spellbound experience offers an enchanting atmosphere and mesmerizing performances that captivate couples instantly.
The influence of the Magic Castle amplifies the enchantment of Spellbound, with its history and mystery echoed through the ship's design and illusionist performances.
The Sun Princess is like a floating magic castle, immersing couples in a world of enchantment and romance with luxurious staterooms, world-class dining, and spellbinding magic shows.
Princess Cruise offers romantic amenities and activities designed to bring couples closer together, making it the perfect choice for a romantic cruise getaway with a touch of magic.
We got a brief preview of what Princess has in store for guests of Sun Princess, their latest mega ship, which will begin sailing early next year in Europe and the Caribbean. If they can pull it off and deliver an authentic experience similar to what people have raved about in the invite-only LA-based Magic Castle then they might have something special on their hands here.
Either way, we're excited since a Princess cruise is at the top of our list in terms of a romantic getaway ... exploring far off destinations, enjoying fine dining, and plenty of drinks while sharing stories with new friends.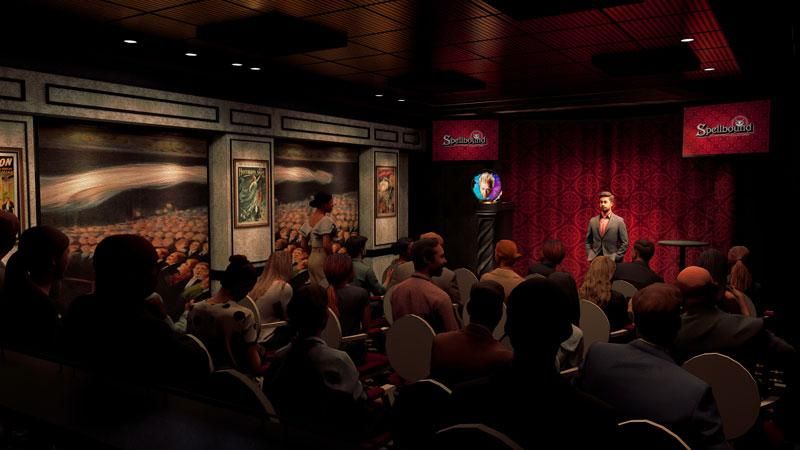 Magic Castle and Princess Present Spellbound!
At a high level, Princess is trying to bring the Magic Castle experience to a cruise ship. However, as you'd expect, this is in large part a themed bar area combined with a niche performance space similar to what you might find in a comedy club or the Cavern Club on Norwegian where guests can stop by and enjoy a drink before and after the show ... or just because they love the decor and the wandering performers performing tricks and illusions to guests.
As you step into the Spellbound by Magic Castle experience, you'll be instantly captivated by the enchanting atmosphere and mesmerizing performances. Spellbound's uniqueness lies not just in their magic demonstrations but in the intangible magic woven into every aspect of your visit. The flickering candlelight, the soft music, and the murmured whispers of sweet nothings create an ambiance that's more than enchanting—it's transformative.
Watch as the magicians perform tricks that defy logic and baffle the mind. You'll find yourself gasping in astonishment, your hand tightly clasping your partner's in shared wonder. This is couple's entertainment at its finest, combining the thrill of the unknown with the warmth of shared experience.
The Spellbound experience is an intimate journey into a world where the impossible becomes possible. It's an evening of shared laughter, wonder, and love. It's the perfect way to add a touch of magic to your romantic getaway.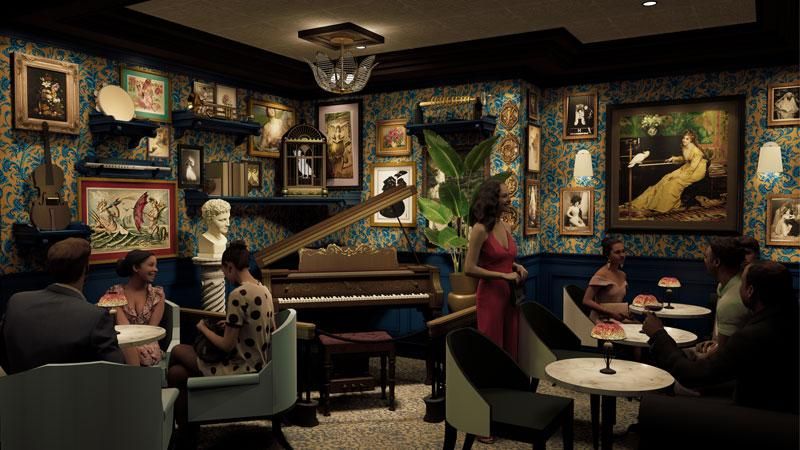 Magic Castle's Influence on Spellbound
While cruise ships have had magic shows and illusionists performing on them since ... well ... I'm sure it's been hundreds of years since there was likely a guy with a deck of cards and a quick wit doing tricks for folks on Columbus's ships. However, personally, magicians at sea have always been a joke in my book. From the most rediculously bad show "Justin Illusion" that Heather and I still talk about to tricks that are performed by the cruise director to warm up an audience before a show.
Here though, the same folks that recruit and manage performers at the legendary The Magic Castle in Hollywood will be curating the schedule for this venue and offering other consulting services to hopefully turn this new offering into something specail that will add a touch of magic and wonder.
The Magic Castle's history, steeped in tradition and mystery, is reflected throughout the Spellbound venue, including special nooks like the Music Room and you'll even be able to meet Artemis the owl. The castle architecture, with its grand turrets and intricate detailing, is mirrored in the design of the ship, creating a seamless blend of elegance and magic.
It is unclear if there will be multiple performance rooms like at the real Magic Castle in Hollywood, but this appears to be focused on a single, intimate, 30-seat Spellbound theater where you will have close-up magic and illusions that will be unlike anything possible from those performances you might have witnessed in the main theater on other ships.
Every night, illusionist performances take center stage, bringing the essence of Magic Castle straight to the heart of Spellbound. These performances are inspired by the Castle's own legacy of showcasing world-class magicians, ensuring you're treated to an unforgettable spectacle.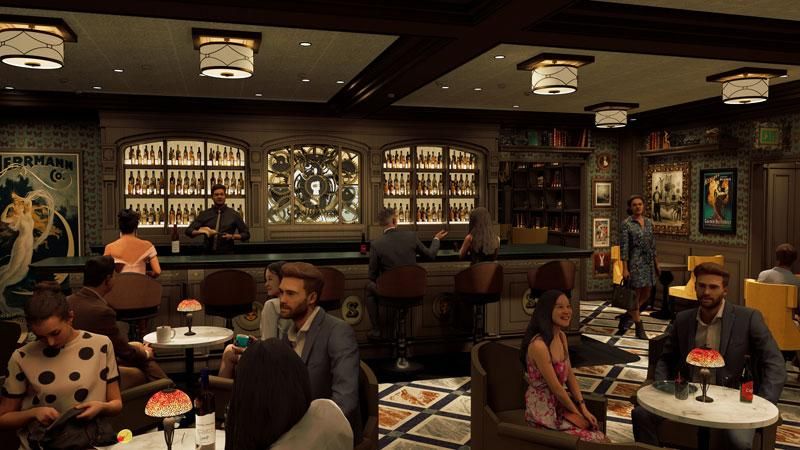 Choosing a Princess Cruise for your romantic getaway is about embracing love and intimacy in a setting that's as extraordinary as your relationship. Now, with the addition of Spellbound on Sun Princess, guests have a fun and unique entertainment experience that is sure to impress. So, if you're seeking an intimate, unique, and enchanting escape, the floating magic castle awaits.