Are you and your partner struggling to balance your professional lives with personal relaxation? It sounds like you're in need of a 'Calm-cation'. These nature-oriented retreats are becoming increasingly popular among busy couples like you who are seeking a tranquil yet comfortable getaway. Imagine waking to the sound of gentle waves, basking in the sunlight beneath clear blue skies, or sharing a romantic stargazing session, all without disconnecting from the digital world. If this sounds appealing, read on to find out why a 'Calm-cation' could be the perfect escape for you.
We understand that as a busy professional couple, you might often find yourselves enquiring about luxury cruises and resort vacations, but have you ever considered back-to-nature getaways? Camping and glamping are just a couple of ways you can immerse yourself in nature while also taking a well-deserved break from your hectic daily routine.
Thanks to some research conducted by CampSpot.com, we got inspired to share some thoughts based on common questions we receive from couples like you.
Understanding The Calm-cation Trend
Are you one of the 70% of travelers in 2024 seeking a calm and relaxing escape from your busy life? If you and your partner are both occupied with work, you may be interested in the rising 'Calm-cation' trend. As a travel advisor, I often hear from couples who are juggling demanding careers and looking for a chance to unwind and reconnect. They ask, 'How can we balance work and personal time, especially if our work allows remote options?' It's so difficult to fully escape and restore that work-life balance. This is where 'Calm-cations' come in.
Focused on stress reduction, 'Calm-cations' are more than just vacations - they're a retreat for your mind and relationship. These getaways offer a chance to step away from your daily routine and immerse yourselves in nature's tranquility. They're an opportunity to spend quality, uninterrupted time with your loved one, away from the usual distractions.
Many of you have asked about activities during these trips. Nature therapy is a key feature of 'Calm-cations'. Engaging in activities like hiking, swimming, or simply lounging by a lake can significantly boost your mental well-being. Even fishing can be therapuetic - especially flycasting while standing together in a cold mountain stream hoping to catch some rainbow trout for supper. This is something that James and I love doing together and you'd be surprised how enjoyable and relaxing it can be.
So, while I love helping clients plan luxurious cruises and resort vacations, I often recommend back-to-nature getaways like camping or glamping. They're a popular request among professional couples, and for a good reason - they provide an excellent break from our fast-paced lives.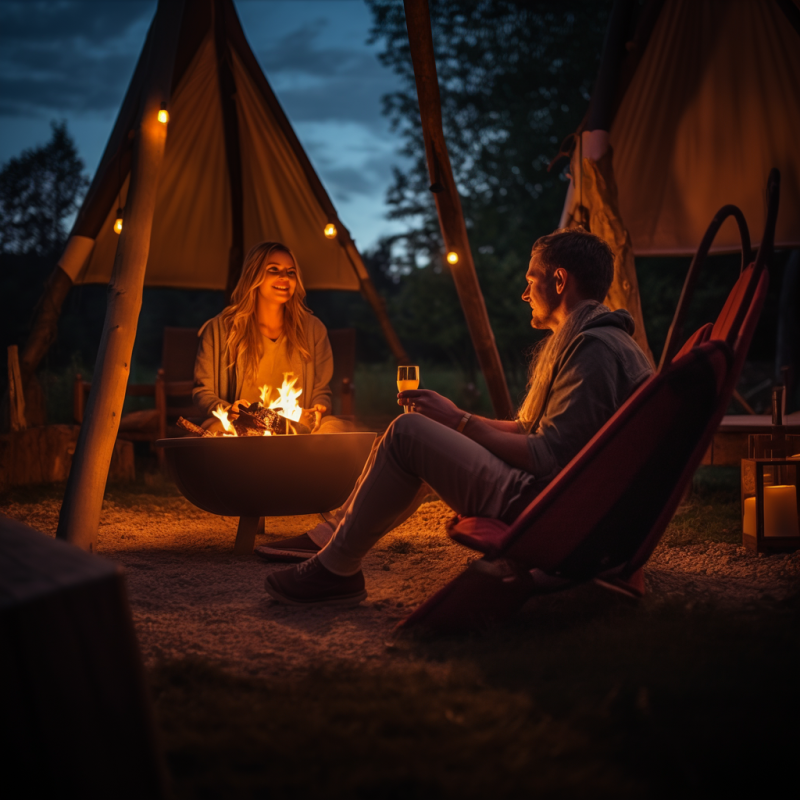 Budget-Friendly Calm-cation Benefits
I've found a rising trend among busy couples: the desire for 'Calm-cations'. These back-to-nature retreats offer a budget-friendly escape from daily distractions. It's more than that though - a calm-cation is about eliminating distractions that lead to nervousness, anxiety, and other forms of stress. Instead of having those things stand between you and your partner ... it's all about the romance!
Here are four reasons why a Calm-cation might be your perfect romantic getaway:
Affordable Tranquility: Calm-cations provide a peaceful retreat that doesn't strain your budget. You can relax in a tranquil setting, enjoying all the benefits of a traditional holiday without the hefty price tag.

Pocket-Friendly Serenity: With cost-efficient accommodation and minimal travel expenses, Calm-cations offer a serene experience that respects your finances.

Economic Value: The cost-benefit ratio of Calm-cations is remarkable. You have the opportunity to rejuvenate and rekindle your relationship, all the while saving your hard-earned money.

Minimalist Approach: Calm-cations promote a simplified lifestyle, cutting out unnecessary expenses. This minimalist approach helps alleviate financial stress, boosting your overall relaxation.
Exploring Different Types of Calm-cations
As busy couples, one of the best ways to reconnect and relax is to take a break from city life and embrace the serenity of nature. There are three main types of nature-inspired getaways, each catering to different preferences and providing unique ways to unwind.
First, we've 'Waterfront Retreats,' perfect for couples who find peace and tranquility near bodies of water. Imagine kayaking together in pristine lakes or enjoying a peaceful boat ride, creating memories to last a lifetime.
Second, there are 'Mountaintop Havens.' These destinations offer clean, fresh air and stunning views from up high. Imagine stargazing together under clear skies or enjoying a quiet evening watching the sunset, a true treat for couples seeking an intimate escape.
Finally, we've 'Connected Wilderness' getaways. These provide a balance of natural beauty and modern amenities, ideal for those who prefer not to completely disconnect. Here, you can enjoy reliable internet access amidst the wilderness, ensuring you can stay connected while enjoying the beauty of nature.
While calm-cations typically focus on minimalist escapes, certainly booking a healthy retreat to a quiet oceanfront resort in Ixtapa, Mexico or even a charter on a sailing yacht like those offered by Windstar can put you guys in the right frame of mind and leave distractions behind.
When planning your romantic getaway, consider what each type has to offer, and remember, it's not just about the destination. It's also about the journey and the memories you'll create together. Whether it's an intimate conversation by the cozy campfire or the shared silence while watching a sunrise, these moments are what make these getaways truly special.