Are you looking for a romantic way to spruce up your hotel room? Look no further than Coume's Rose Petals and Candles Kit. This single set has over 6000 pieces of artificial rose petals and 72 pieces of LED heart shape candles, perfect for creating a special atmosphere. With this kit, you can create the perfect ambiance for any occasion – whether it's a romantic night or just some quality time with your partner. What's more, its battery-powered convenience makes setting up quick and easy. Make this Valentine's Day unforgettable with Coume's Rose Petals and Candles Kit!

Coume Rose Petal Romance Kit Overview
Coume's product is the perfect solution for a cozy, romantic evening spent with your loved one - featuring 6000 pieces of artificial petals and 72 LED heart-shaped candles! With this kit, you can transform any hotel room into a luxurious oasis of love. The heart shape LED candles are designed to be realistic, beautiful, and exquisite -- adding the perfect touch of romance to your special night. Plus, they're easy to use with an on/off switch button at the bottom of each candle.
The rose petals come in packs of 100 and require some time to separate out -- but it's worth it for the stunning display that will adorn your hotel room! Furthermore, Coume's product is battery-powered for convenient use so you don't have to worry about finding an outlet or dealing with extension cords. Whether you're celebrating a wedding proposal or just spending time together as a couple, this romantic lighting set from Coume will become an instant favorite!
Product Specs:
Brand: Coume
Color: Warm White Light
Product Dimensions: 12.5 x 7.8 x 3.9 inches
Light Source Type: LED
Material: Plastic
Power Source: Battery Powered
Additional Product Notes:
Comes with 6000 pieces of artificial rose petals and 72 pieces of LED heart shape candles
Heart shape LED candles are designed to be realistic, beautiful, and exquisite
Easy to use with on/off switch button at the bottom of each heart candle
Suitable size for decorating areas such as home, table centerpiece, wedding cake aisle, hotel, and kitchen
Battery powered for convenient use
Like many products like this, there is a chance that not all the lights will function properly. You might consider buying multiple sets if you need a specific number of lights to spell something personal.
This romance kit is also available in blue and red light candles too, but we prefer the more classic warm white look.
Use To Design The Perfect Rose Petal Layouts
Candles and rose petals can be used to design a beautiful and romantic display on the bed. Here are some tips for creating the perfect setup:
Start by selecting the right type of candle. Choose one that will create a warm and inviting atmosphere without overpowering the room with its scent.
Place several candles around the bed strategically to provide an even distribution of light throughout the room.
Use rose petals to decorate the bed in a classy and sensual way. Start by placing them in a circle around each candle, then spread them out evenly across the bed in a pattern or design of your choice.
For added effect, place small pieces of jewelry, such as diamonds or pearls, among the rose petals for an extra touch of romance and sophistication.
Finally, dim the lights and enjoy your beautiful creation!
Creating a romantic display with candles and rose petals is an easy yet effective way to make any occasion special for your clients. With just a few simple steps, you can create an atmosphere that is both warm and inviting while still being elegant and sophisticated - perfect for any newlywed couple!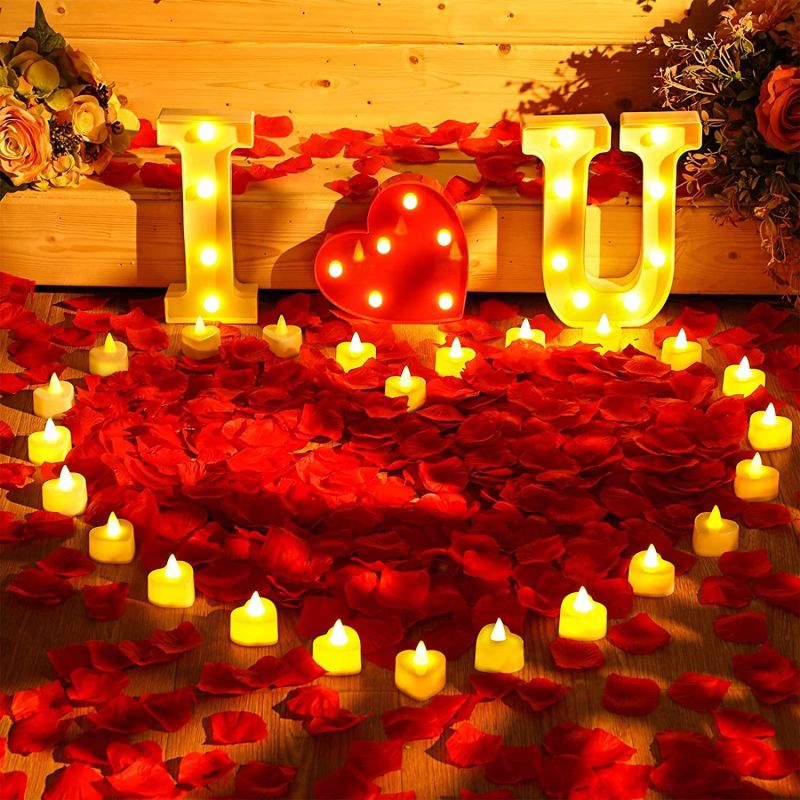 Ideal Occasions To Use Rose Petals
You can add a special touch to any occasion with Coume's rose petal and LED candle kit, from an intimate dinner for two to a celebratory event. Whether you're looking for romantic ideas, creative decorations, or gift ideas, this set has everything you need to make your night special. Here are some of the occasions where you can use these rose petals and candles:
Weddings: Add a romantic touch to weddings by scattering rose petals along the aisle or around the wedding cake.
Proposal Decoration: Surprise your loved one by decorating with beautiful rose petals and heart shaped candles.
Valentines Day: Show your love by placing candles in strategic locations around the room such as on tables or window sills.
Mother's Day: Show your wife how much you love her
Cruise Vacations: Save money vs having the cruise line deliver their own "romance package"
Romantic Staycations: Bring back that romance from your honeymoon or that special romantic resort that you both cherish the memory of with this quick and easy romantic gesture showing her how special she is to you.
Conclusion
You can't go wrong with Coume's Rose Petals and Candles Kit. It's the perfect way to create a romantic atmosphere in your hotel room. With 6000 pieces of artificial rose petals and 72 heart-shaped LED candles, you'll be able to design the ideal layout for an unforgettable night. Plus, it only takes minutes to set up and turn on – so you'll be ready before you know it! And did we mention that the average person saves over two hours by using this product? So don't hesitate – start creating your dreamy night today!