One of my favorite places anywhere in the world to visit is northern Michigan. It's a bit out of the way, but still close enough to be a long weekend getaway from Chicago or Detroit and yet the colors are simply outrageous up there. I know that you're craving a unique autumn escape with breathtaking chairlift rides over fiery fall foliage, thrilling bike rides, and tranquil hikes. Let's take a look at what else Crystal Mountain has available this fall!
Key Takeaways
Crystal Mountain offers a variety of activities and experiences for couples to enjoy during the fall season.
Couples can take a scenic chairlift ride to the top of the mountain and enjoy panoramic views of the colorful foliage.
The resort offers Fall Fun Saturdays, where couples can bike through the woods, participate in pumpkin carving, enjoy horse-drawn rides, and more.
Couples can also indulge in relaxation and rejuvenation at Crystal Spa, with discounted facials, body treatments, and massages during Fall Spa Days.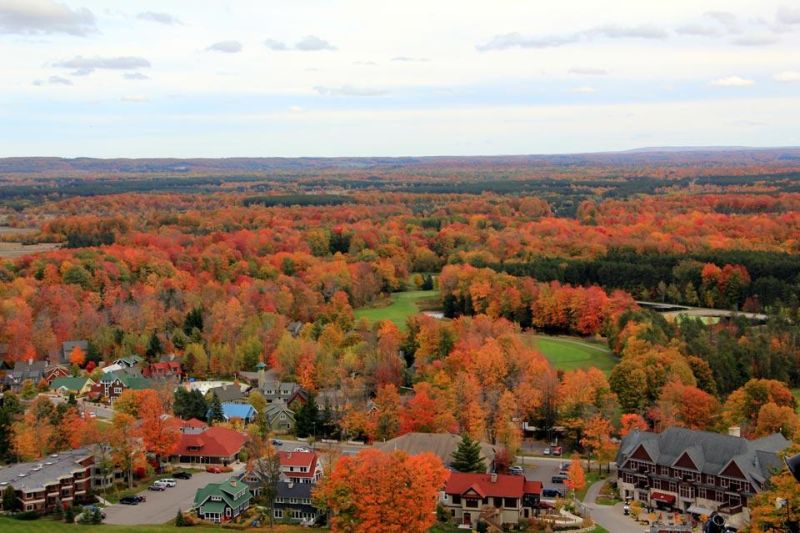 Exploring the Romantic Fall Scenery at Crystal Mountain
You'll find an unparalleled sense of tranquility as you and your partner explore the romantic fall scenery at Crystal Mountain, with its vibrant foliage and stunning panoramic vistas.
Picture yourselves hiking hand-in-hand down romantic trails, the crunch of leaves beneath your feet. Can you hear the call of distant birds? Can you feel the crisp autumn air filling your lungs?
Don't forget to bring along your camera to capture the fall photography opportunities that abound. You might also consider a peaceful, scenic chairlift ride, providing sweeping views of the radiant landscape below.
Perhaps you're more inclined towards a couples yoga retreat or a sunset picnic at one of Crystal Mountain's charming spots.
Whatever your preference, fall at Crystal Mountain is a shared experience of beauty and tranquility.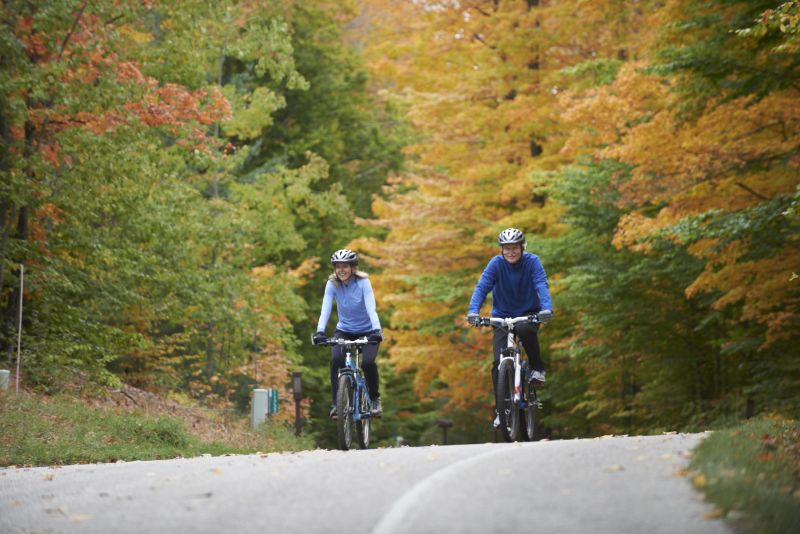 Adventurous Activities for Couples at Crystal Mountain
At Crystal Mountain, you and your partner can indulge in thrilling activities during the fall season, and experience the adrenaline rush of mountain biking through the vibrant foliage, or take on the challenge of archery together. The resort offers a myriad of outdoor adventures, perfect for couples seeking both excitement and intimacy.
Mountain Biking: Navigate the trails hand-in-hand for a thrilling ride amidst the stunning fall colors.

Zip Lining: Soar through the crisp autumn air, experiencing breathtaking views and an exhilarating rush.

Couples' Yoga: Connect deeper with each other through yoga, surrounded by the serene beauty of the mountain.
These scenic hikes, along with other activities, will surely make your fall getaway an unforgettable one. Your adventure awaits at Crystal Mountain.
The Ultimate Dining Experience at the Resort
While you're exploring the beauty of Crystal Mountain, don't forget to indulge in the ultimate dining experience that's sure to tantalize your taste buds.
The resort offers a variety of fine dining options, each presenting an array of culinary delights. Your gourmet experiences range from cozy, rustic meals to exquisite, romantic dinners.
Savor the epicurean delights at Thistle Pub & Grille, where the chefs whip up mouthwatering dishes with fresh, local ingredients.
These dining options are perfect for couples seeking an intimate, memorable meal.
Luxurious Accommodation Options for Couples
Crystal Mountain offers you a range of luxurious accommodation options, and whether you prefer a cozy hotel suite or a grand mountain top resort home, you're sure to find the perfect retreat for your romantic fall getaway.
MountainTop Townhomes: These upscale, spacious homes offer panoramic views of the fall foliage. Perfect for couples seeking outdoor adventures, these homes are conveniently located near scenic hikes.

Crystal Colony Hotel: A cozy option for a couples' retreat, the hotel is centrally located, providing easy access to romantic dining options and the spa.

Bungalows at Crystal Glen: Nestled in the heart of the resort, these bungalows offer serene surroundings and are perfect for couples desiring fall foliage tours right at their doorstep.
Relaxing Spa Services at Crystal Mountain
You'll find that the spa services at Crystal Spa are just what you need to unwind and reconnect with your partner this fall.
Imagine indulging in fall spa treatments, surrounded by changing leaves, with the scent of cinnamon and pumpkin in the air. This wellness retreat offers a variety of rejuvenating massages, perfect for a romantic escape.
The couples retreat features a tranquil setting, allowing you both to relax, renew and rejuvenate. The soothing sounds, calming aromas, and expert therapists create a memorable experience that will leave you feeling refreshed and revitalized.
With a focus on wellness and relaxation, the spa at Crystal Mountain is the ideal spot to escape the hustle and bustle of daily life and focus on each other.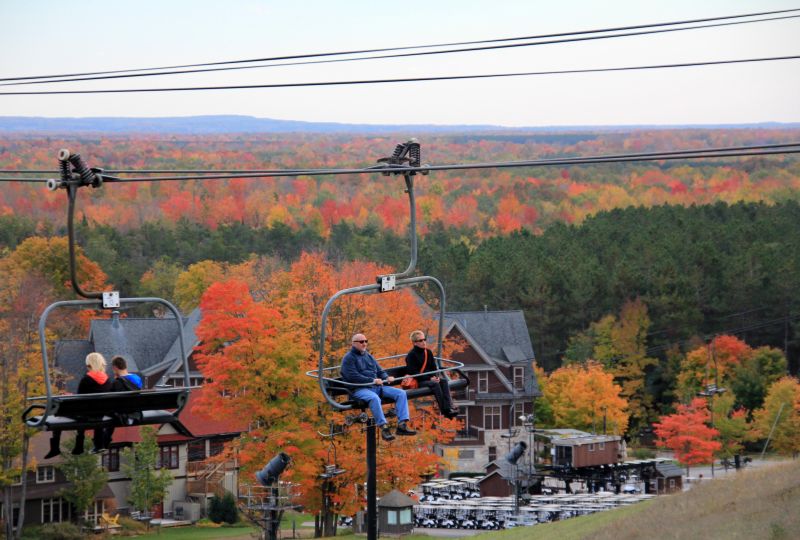 Upcoming Fall 2023 Events
Are you needing even more excuse to plan your fall romantic getaway to Crystal Mountain? Here are some of their upcoming events that you might want to check out ...
Upcoming Events
Oct. 14:

Birdwatching at Michigan Legacy Art Park

Oct. 15:

Crystal Golf & Give

Oct. 21:

17th Annual Peak2Peak

Mountain Bike Classic
Oct. 28:

Annual Ski Swap
So, are you and your partner ready to create unforgettable memories this fall? With Crystal Mountain's vibrant autumn hues, thrilling activities, delectable dining, luxurious accommodations, and calming spa services, your fall escape will be nothing short of magical.
Don't wait - the beauty of fall at Crystal Mountain awaits. Reserve your autumn adventure today and let the colors of the season paint your romantic getaway.