James and I love apple picking in fall and it is one of the things I'm most looking forward to doing once we're fully established in our new home in Southwest Michigan. For now though, we're happy to be able to grab some orchard fresh apples at MacQueen's Apple Orchard - a Toledo, Ohio tradition for families for nearly 100 years. For the rest of you - if you haven't gone apple picking with your partner, and thought this was just an activity for kids and families ... well ... you don't know what you're missing! If you want a fun, healthy and fresh date idea that ends in warming each other up with hot apple cider, donuts and a hug to break that fall chill ... this is about as good as you can get!
This is a fall date activity that we've enjoyed for years and I'm sure you guys will too. So, why not give apple picking a try? Trust us, it's a great way to spend quality time together and make this Fall unforgettable.
Key Takeaways
Apple picking enhances teamwork in relationships through activities like climbing ladders and catching falling apples, promoting communication, strategizing, and conflict resolution.
Apple picking provides unique date ideas beyond the usual dinner and movie, such as orchard picnics and cider tastings, fostering intimate, shared experiences that deepen the bond.
Apple picking offers health benefits for couples, including exercise from walking and reaching for apples, fresh air and a serene environment that boosts mood and reduces stress, and the opportunity to harvest vitamin-rich fruits for a healthier diet.
To make the most out of the apple picking experience, couples should brush up on orchard etiquette, learn about seasonal varieties and picking schedules, dress appropriately, and consider packing a romantic picnic amidst the apple trees.
The Romantic Atmosphere of Apple Orchards
You'll find few settings more romanticmore romanticmore romantic than the serene apple orchards in the heart of fall. The orchard aesthetics alone are breathtaking, with golden leaves blanketing the ground and ripe, red apples dotting the trees. The air is thick with the sweet, crisp scent of apples, creating a comfortably intimate atmosphere.
You'll feel like you belong in this idyllic scene, hand in hand with your partner, selecting the best apples. And it doesn't stop there. Once home, you can turn your harvest into delectable apple recipes. Imagine the pleasure of baking apple pies together, the aroma filling your home, creating cherished memories.
The romantic ambiance of apple orchards is simply undeniable, making apple picking a perfect fall date.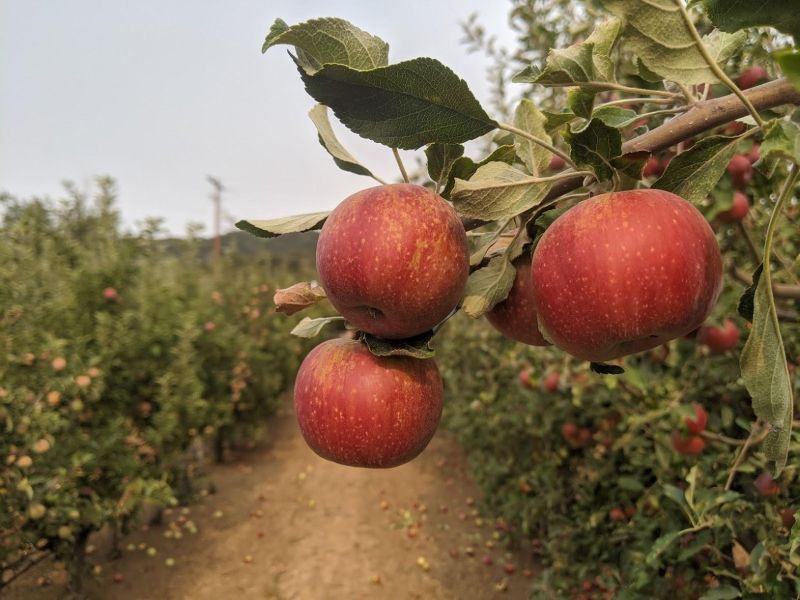 How Apple Picking Enhances Teamwork in Relationships
When you're out in the orchard, someone's got to climb the ladder, and it's the other person's job to catch the falling apples - that's where teamwork comes into play. Other times, most you-pick orchards have trees that are low enough to the ground that it is more about working together to reach those hard to get apples while the other partner focuses on spotting ones burried deep in the tree that others have missed.
Apple picking promotes communication building as you strategize to pick the best apples. You'll naturally negotiate and make decisions together, fostering conflict resolution.
Here are five ways apple picking enhances teamwork:
Sharing the experience of a new challenge.
Working together to reach a common goal.
Learning to trust each other more.
Communicating effectively to achieve tasks.
Resolving conflicts when choosing which apples to pick.
These shared moments create a sense of belonging. Apple picking isn't just a fun fall activity - it's an opportunity to strengthen your bond and teamwork skills.
Unique Date Ideas: Apple Picking and Beyond
Beyond apple picking, there's a world of unique date ideas for you and your partner to explore, fostering both fun and connection. Why not try an orchard picnic? Pack a basket with your favorite foods and nestle among the apple trees. It's a tranquil setting where you can truly connect.
Or, if you're over 21, alcoholic cider tastings provide a delightful excursion. Imagine sampling the crisp, autumnal flavors from local orchards, your hands entwined as you share sips and smiles.
These activities provide an intimate, shared experience that's sure to deepen your bond. So, step outside the usual date night box and into the orchard. Apple picking and beyond, there's a whole world of unique, engaging experiences waiting for you both.
The Health Benefits of Apple Picking For Couples
In addition to being a fun, unique date idea, apple picking also offers you and your partner a wealth of health benefits, both physical and emotional. You'll be surprised at the exercise benefits you can reap simply by walking through orchards and reaching for those juicy apples. And let's not forget the nutritious bounty you'll bring home!
You'll unknowingly burn calories, enhancing physical health and promoting weight management.
The fresh air and serene environment can boost your mood and reduce stress.
It'll strengthen your bond as you engage in a shared activity.
You're not just picking apples, you're also harvesting vitamin-rich fruits for a healthier diet.
Lastly, it's a chance to disconnect from technology and reconnect with each other and nature.
Embrace the health benefits of apple picking and make it your go-to fall activity.
Making the Most Out of Your Apple Picking Experience: Tips and Tricks
You've chosen apple picking as your fall activity, and now it's time to maximize the fun and benefits with some handy tips and tricks.
Brush up on the orchard etiquette before you head out. Remember, don't shake the trees or over-pick, as you should respect the farm's resources.
For the best experience, learn about the seasonal varieties available. Timing is key, so check the orchard's picking schedule. You'll enjoy the freshest, crispiest apples at their peak ripeness.
Don't forget to dress appropriately - sturdy shoes and layers are a must. Pack a picnic for a romantic break amidst the apple trees.
It's Hard to Pick A Better Fall Date Idea!
So, grab your partner's hand and head to the orchard! Apple picking isn't just a fun autumnal activity—it's a romantic escape, a unique date idea, and a chance to strengthen your bond.
Plus, it's a great workout too! With these tips and tricks, you'll ace your apple picking date.
Here's to falling in love with fall— and each other— all over again, one apple at a time.