The love lock bridge tradition is a romantic gesture that has been practiced for centuries. Couples attach padlocks to bridges as a symbol of their indestructible bond and everlasting devotion. This tradition has been around since the early 1900s, but it was popularized in Hungary in the early 2000s when young couples began attaching locks to the Széchenyi Chain Bridge in Budapest.
Since then, this custom has spread all over the world. However, it's really only been the past twenty years, since the early 2000's where this tradition has caught fire. That's likely since this is such a cute thing to do ... and then show off on social media. Afterall, who doesn't love love?!
For Heather and I we've participated in the tradition a few different times - though only most recently in Irving, Texas did I actually have a lock to attach. Previously, in Cologne, Germany and Amsterdam, we visited the locations and sort of did a "virtual lock" and then gave each other a kiss. While not quite as impactful as the full experience ... it was fun and meaningful for us. I can't wait to go somewhere and do the whole tradition together though!
In each of these dozens of locations around the world, couples inscribe their initials or names on a padlock and attach it to a bridge as a sign of their undying love. The most famous love lock bridge is located in Paris on the Pont des Arts bridge over the Seine River. However, this bridge became so popular with lovers that it had to be closed down due to safety concerns after thousands of locks were attached to it!
Love lock bridges are now a worldwide phenomenon and are not just found in Europe - they can be found all over the world and across the United States as well! From South Korea's N Seoul Tower and Japan's Hohenzollern Bridge to Italy's Ponte Milvio and Spain's Puente de los Suspiros de Triana, there are plenty of places where you can show your partner your everlasting devotion by attaching a lock to a bridge.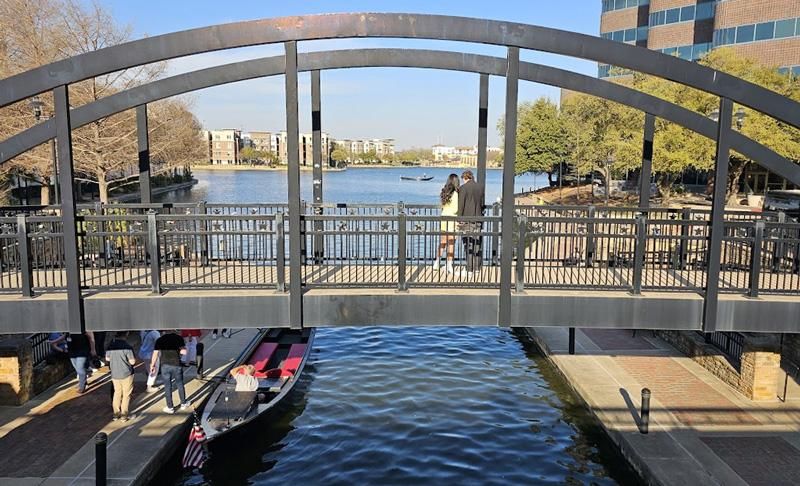 20+ Locations Where You Can Find A Love Lock Bridge:
There are also many other locations around the United States where people have created fences and other areas where people can attach locks. We've not included those locations since we're focused specifically on bridges where you can attach a lock as a romantic gesture. Notable non-bridge locations include Canfield, Ohio's "The Big Lock" art project, Lovelock, Nevada where the entire town has joined in on the tradition and the Paris Las Vegas Casino where there's a wall where you can attach your lock.
Carolyn Promenade Lake, Las Colinas, Irving Texas (as featured on Love Is Blind reality TV show!)
Santa Fe Trestle Trail Bridge, East Oak Cliff, Dallas Texas
Napa Valley Wine Train Love Lock Bridge, Napa, California
Augusta Love Lock Bridge, Augusta, Georgia
Love Lock Sculptures, Loveland, Colorado
Schenley Park Bridge, Pittsburgh, Pennsylvania
Niagara Falls Love Locks Bridge, Ontario, Canada
Most Ljubavi, Vrnjačka Banja, Serbia
Punda Love Heart, Willemstad, Curaçao
Pont des Artes, Paris, France
Magere Brug, Amsterdam, Netherlands
Staalmeestersbrug, Amsterdam, Netherlands
Father Bernatek Footbridge, Krakow, Poland
Čertovka Pedestrian Bridge, Kampa, Prague, Czech Republic
Butcher's Bridge, Ljubjana, Slovenia
Wedding Lock Bridge, Riga, Latvia
Hohenzollern Bridge, Cologne, Germany
Makartsteg Bridge, Salzburg, Austria
St. Maarten Causeway Bridge, Phillipsburg, Saint Maarten
Mount Huangshan, China
North Seoul Tower, Seoul, South Korea
Luzhkov Bridge, Moscow, Russia
So, if you're looking for an extra special way to show your partner how much you care, why not take them on an adventure around the world and visit some of these beautiful love lock bridges? It's sure to be an unforgettable experience that will stay with you both forever!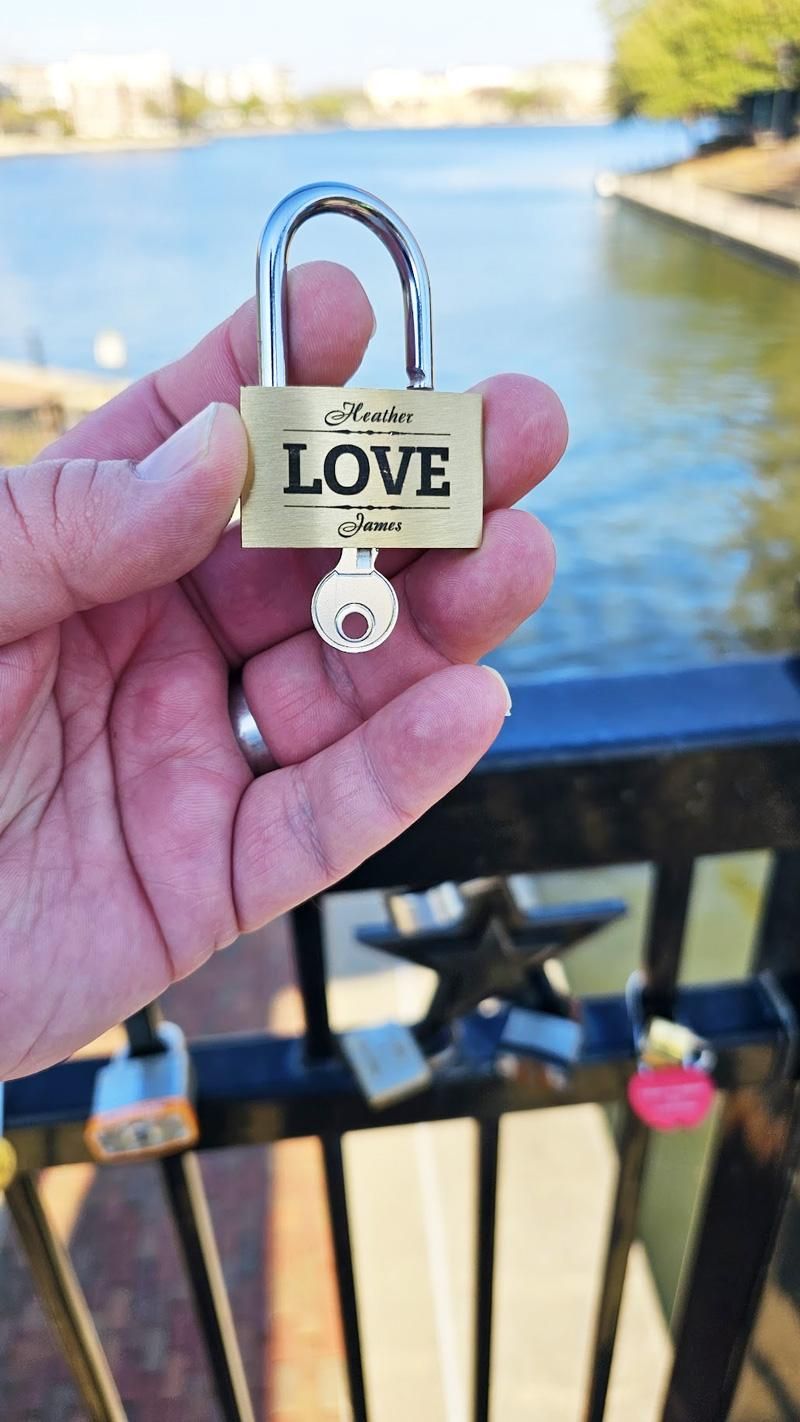 How You Can Join The Love Lock Bridge Tradition
The love lock bridge tradition has been around for centuries and continues to be a popular way for couples to show their everlasting devotion and commitment to each other. If you want to join in on this romantic gesture, here are some steps you should take to ensure your experience is meaningful and special:
Talk About Your Expectations
Before doing anything else, take some time to talk about what you both hope to get out of the experience. Discuss how much time you want to spend together writing the inscription, attaching the lock to the bridge, etc. Having a clear understanding of each other's expectations ahead of time will make it easier for both of you to enjoy the experience when it actually happens.
We're going to assume you are already in a committed relationship so this step should be easy!
Choose a Symbolically Significant Location
Once you have discussed your expectations, it's time to choose a location with a special meaning for both of you. This could be any place where there is an accessible bridge with locks already attached - such as Cologne in Germany or Irving, Texas, or somewhere closer that has personal importance like a spot where you first met or had your first kiss. If there's nothing close or that are you able to travel to, you might even start your own tradition.
This could even be a great opportunity to propose to someone by making this a symbol that represents your everlasting love.
A word of caution though, in some areas the act of attaching a lock to a bridge can be seen as vandalism and you could be fined or arrested if caught. Likewise, you should never trespass or go to parts of the bridge that are not readily accessible by pedestrians.
Writing a Meaningful Inscription
Have fun creating an inscription that expresses your feelings for each other! It could be something simple like your initials or names, but it could also be a phrase like "together forever" or "love never fails". Be creative - the sky's the limit!
There are many vendors on sites like Etsy as well as Amazon where you can get personalized locks engraved with your names. You can also take a lock that you've purchased and bring it to a local award shop or engraver to have it customized with your own personal message.
Attach The Lock To The Bridge
Once you get to the bridge, give your partner a kiss, a hug, or whatever gesture is appropriate and you can attach the lock to the bridge together or by yourself if that's easier.
Tradition states that you should throw the key into the river so your love can never be broken. For Heather and I though, we don't like littering - especially throwing something like this into the river. So, instead you can just place it into a trashcan or even into a super hot campfire where the key can melt down into a pool of aluminum or whatever metal it was made of.