Las Vegas is the wedding capital of the world and one of our favorite places to send couples who are looking to ditch the tradition religious ceremony and start their new life together in a unique sorta way. It's equally good for folks that maybe want to do things again with vow renewal. It's Vegas though so you shouldn't be surprised that the land of Elvis or Drag Queen officiants would also be home to a spooky wedding scene where love meets the uncanny. Imagine saying 'I do' in a ghost town or before Dracula himself ... it's all right here in "Sin City", so let's take a look.
Welcome to your unique eerily romantic journey!
Key Takeaways
Las Vegas is known as the Wedding Capital of the World and offers a wide range of wedding options, including themed weddings tied to seasonal occasions.
Spooky themed weddings, such as Friday the 13th and Halloween weddings, are becoming increasingly popular in Las Vegas.
There are various venues in Las Vegas that cater to couples looking for a spooky wedding experience, such as Nelson Ghost Town, The Little Vegas Chapel, and Sure Thing Chapel.
These venues offer special packages that include Halloween-themed ceremony, music, florals, cake, and unique features like a coffin ring-bearer wedding box or a wine hearse for photo ops.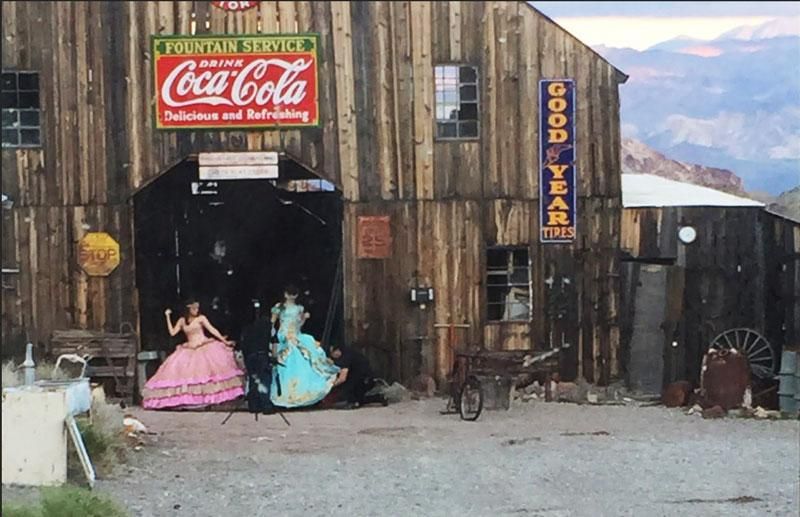 Spooky Nuptials at Nelson Ghost Town
If you're looking for an eerie and unique wedding experience, the 'Til Death Do Us Part' package at Nelson Ghost Town should be your go-to choice.
This ghost town, steeped in history and mystery, sets the perfect stage for an intimate ceremony amidst haunted decor and an eerie ambiance.
Here, your vows echo off the aged walls, punctuated by ghostly encounters.
The package, tailored for those craving supernatural ceremonies, includes an officiant draped in black and a chilling coffin ring bearer.
This isn't your ordinary wedding, it's an extraordinary experience, where your love story melds with the spectral whispers of the past.
Halloween Exclusive: Love at First Bite
Continuing from the eerie allure of Nelson Ghost Town, you'll find The Little Vegas Chapel offering a Halloween exclusive package aptly named 'Love at First Bite.' This is one of the most captivating haunted wedding venues in Las Vegas.
Let's unmask what this package entails:
Unique Halloween themed decorations: The venue is adorned with spooky yet romantic decor, creating an unforgettable atmosphere.
Spooky wedding attire options: You can choose to dress as your favorite Halloween character or stick to classic vampire-esque attire.
Halloween inspired wedding cakes and vampire themed wedding music: To complete your spooky nuptials, enjoy a custom-designed Halloween cake while swaying to the rhythm of eerie melodies.
This package promises an intimate, unconventional, and absolutely unforgettable Halloween wedding experience.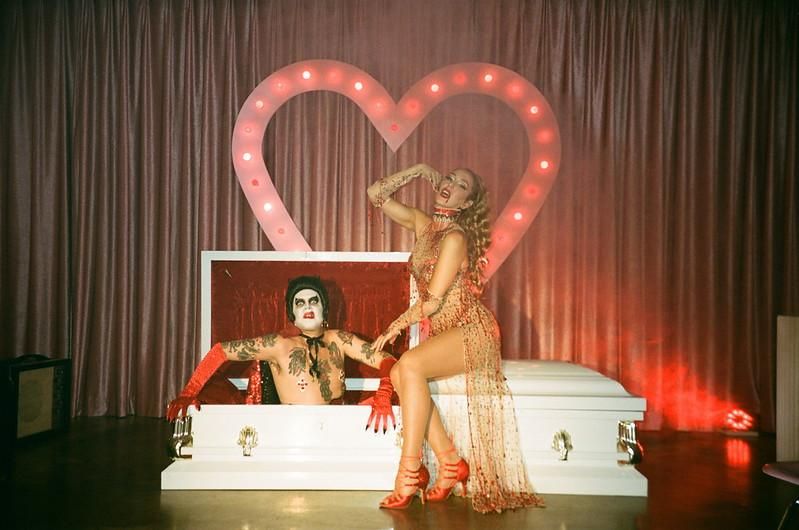 After Dark Packages at Sure Thing Chapel
For those who crave a truly chilling wedding experience, you'll love the 'After Dark' packages at Sure Thing Chapel. This unique wedding theme is part of the latest Las Vegas wedding trends that cater to couples who desire a touch of the macabre in their nuptials.
Your experiences at Sure Thing Chapel will be filled with eerie elegance, from the blood-themed burlesque shows to the champagne served from a hearse. Perfect for Halloween wedding ideas, the package also includes spooky wedding photography options. Pose with Hellvis, Elvis's ghostly alter ego, or beside the Wine Hearse for a start.
Embrace the supernatural, and remember, 'til death do you part – in the most chillingly romantic way!
Notable Figures Wedded in Las Vegas
While you mightn't be chasing ghosts like those at Sure Thing Chapel, it's worth noting that some of Hollywood's most iconic figures have tied the knot right here in Las Vegas. This city is a hotbed for celebrity weddings, from famous monsters to rock stars.
Frank Sinatra and Mia Farrow - They surprised the world with their unique ceremony at The Sands Hotel in 1966.
Elvis and Priscilla Presley - The King of Rock and Roll and his queen celebrated their themed wedding at the Aladdin Hotel in 1967.
Angelina Jolie and Billy Bob Thornton - This unconventional couple chose a haunted venue, The Little Church of The West, for their vows in 2000.
Las Vegas continues to offer intimate, memorable, and sometimes spooky experiences for couples.
Why Choose a Spooky Vegas Wedding
So, why should you opt for a spooky Vegas wedding?
Unforgettable and Unique Experience
A spooky-themed Vegas wedding provides an unforgettable and unique experience that stands out from traditional wedding ceremonies. Las Vegas, known for its vibrant nightlife and eclectic entertainment options, offers a plethora of venues that can cater to a spooky-themed wedding, ensuring that your special day is not only memorable for you but also for your guests.
Opting for a spooky theme allows you to get creative with your wedding planning, from eerie decorations to a hauntingly beautiful wedding attire, ensuring that your wedding remains etched in the memories of your loved ones. Moreover, the stories and pictures from a spooky-themed wedding are sure to be distinctive, providing a fun and unique narrative for years to come.
Embrace Personal Interests and Uniqueness
Choosing a spooky-themed wedding in Vegas allows you to embrace your personal interests and uniqueness as a couple. If you and your partner enjoy things on the darker, more mysterious side of life, or have a penchant for Halloween festivities, a spooky wedding theme can be a fantastic way to express your personality and interests in your celebration.
It provides an opportunity to break away from conventional wedding norms and create a day that truly reflects your individuality and shared interests as a couple. This theme allows you to explore unconventional wedding attire, decorations, and ceremonies, ensuring that your wedding is genuinely a reflection of your unique bond and shared interests.
Versatility in Creativity and Fun
A spooky Vegas wedding doesn't just offer a unique experience but also brings a versatile array of creative and fun options to explore. From the invitations to the decor, and from the attire to the entertainment, every aspect of the wedding can be customized to fit the spooky theme, offering a wide canvas for creativity and personal expression. You can incorporate various elements like themed costumes, dramatic makeup, and eerie decorations to create a whimsical yet romantic atmosphere.
Furthermore, Las Vegas, with its dynamic and lively spirit, amplifies the fun and excitement, offering various venues and services that can help bring your spooky wedding vision to life, ensuring that your special day is filled with joy, love, and a touch of thrilling mystery.
A spooky Vegas wedding adds a touch of mystery to your special day, ensuring it'll be a day you and your guests will never forget.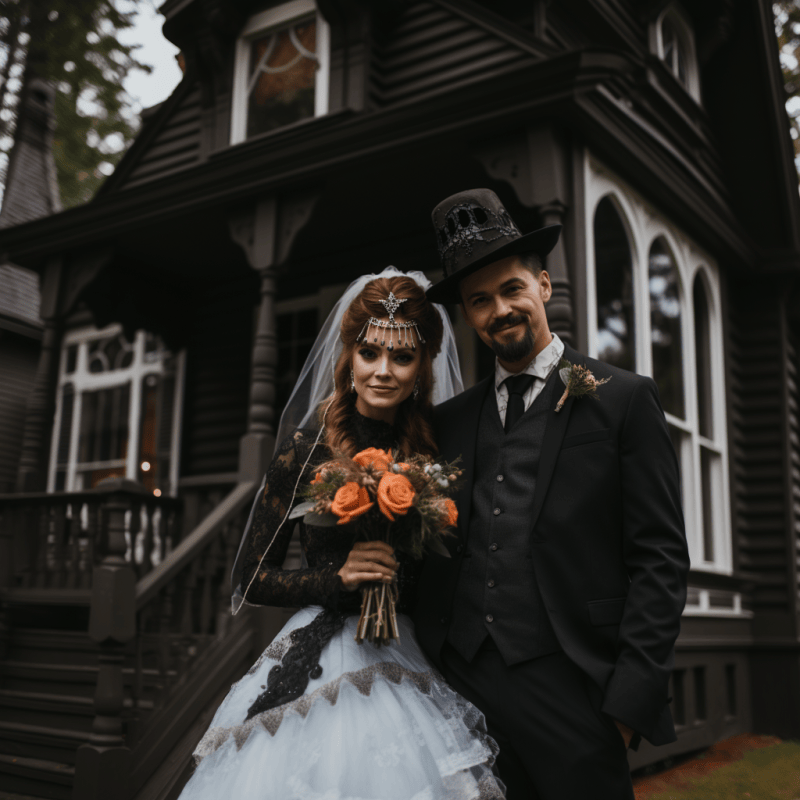 If A Spooky Theemed Vegas Wedding Isn't Your Style, Here Are Some Other Ideas For A Weird and Fun Halloween Wedding!
No matter what your style, NOBODY should tell you how you and your partner should start your new life off together. Each wedding should be a unique and fun expression of your love and commitment and while a destination wedding on the beach at a tropical resort or a classic church wedding is perfect for many people ... it's ok to be different. Here are some ideas we love for planning that special spooky wedding or vow renewal experience during Halloween time (or any other time of year really!).
Haunted Mansion Theme
For couples who adore the supernatural and enjoy a good ghost story, a haunted mansion-themed wedding could be a thrilling option. Choose a venue that has a rich history and perhaps a few ghost stories attached to it. Decorate with vintage items, candelabras, and utilize strategic lighting to create a spooky yet elegant ambiance. Guests can be encouraged to dress in vintage attire, and the ceremony can include fun elements like a faux séance or a mystery theater performance.
Classic Horror Movie Theme
If you and your partner are fans of classic horror movies, consider having a wedding that pays homage to your favorite spooky films. Set the wedding in an old classic theater so you can do the nuptuals on stage and then for the reception, each table could be dedicated to a different classic horror movie, like "Dracula", "Frankenstein", or "The Mummy". Incorporate elements from these films into your decor, attire, and even your wedding cake. Consider having a makeup artist on-site to give guests a ghoulish makeover, and perhaps screen some of your favorite spooky movie moments during the reception.
Gothic Romance Theme
A Gothic romance theme offers a blend of dark, mysterious, and romantic elements that can be incredibly enchanting. Think of deep, rich colors like black, burgundy, and purple for your decor and attire. Choose a venue like an old castle or a historic building that can complement the Gothic aesthetic. Incorporate elements like velvet, candles, and roses into your decor, and consider having a violinist or a string quartet play hauntingly beautiful music during the ceremony and reception.
Witchy Woodland Theme
For those who love nature and a bit of magic, a witchy woodland-themed wedding might be the perfect fit. Choose an outdoor venue, preferably in a forest or a place with plenty of trees ... maybe even on a full moon for that extra earth lunar energy. Utilize natural elements like wood, moss, and stones in your decor, and consider having a bonfire as part of your celebration. You might include elements of pagan wedding ceremonies, and encourage guests to dress in enchanting, mystical attire.
Tim Burton-Inspired Theme
If you're fans of Tim Burton's whimsical and spooky films, consider having a wedding inspired by his distinctive style. Think of "Corpse Bride" or "Beetlejuice" as inspiration for your decor, attire, and overall wedding vibe. Utilize a color palette that includes black and white stripes, and consider incorporating playful yet eerie elements into your ceremony and reception. A Tim Burton-inspired wedding can be both spooky and whimsical, offering a fun and creative experience for you and your guests.
Vintage Carnival Theme
A vintage carnival or circus-themed wedding can be both spooky and incredibly fun. Think of utilizing elements like striped tents, fairy lights, and vintage carnival games into your celebration. You might hire performers like magicians or fire eaters to entertain your guests, and encourage them to dress in vintage carnival attire. Utilize rich, bold colors and consider incorporating fun, carnival-style treats like cotton candy or popcorn into your menu or as favors.
Each of these spooky wedding themes offers a unique and fun way to celebrate your love while also embracing the eerie spirit of Halloween. Remember to choose a theme that resonates with both of you and allows you to express your personal style and interests.
Photo Credit for the top three images: Vox Agency