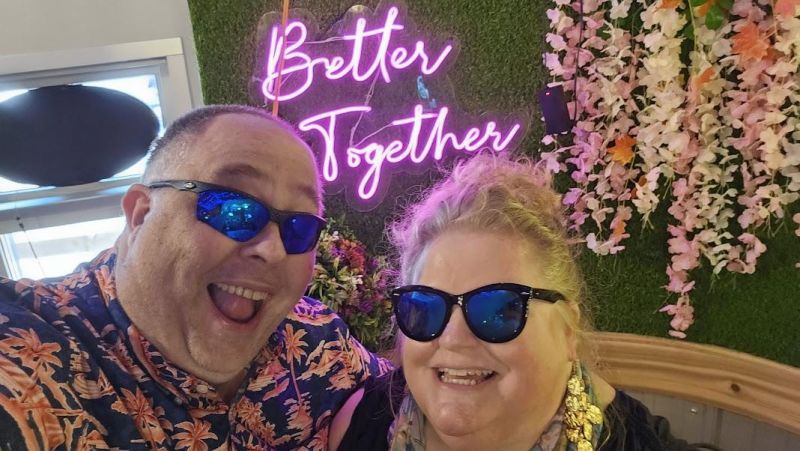 Heather and James Hills created this site to help share our own knowledge and personal experience with couples that we've learned over the past twenty years of marriage. During that time, we have become a source of knowledge that many of our friends ask for recommendations from - both in regards to travel but also how we've managed to stay together and tips for maintaining a strong and healthy relationship despite the pressures of working together and traveling together for much of that time and challenges such as recovering from debt, surviving layoffs, and physical as well as mental health issues.
About Heather Hills:
Before leaving the world of therapuetic recreation to help her husband James start a marketing agency, she was a Certified Recreation Therapist who worked with a variety of patients to help them maintain and resort physical, mental, and emotional well-being through a variety of treatment techniques that involve focusing on recreation, social skills, and creativity to make her patients lives better.
Since then she has also built a travel agency business leveraging those same principles to help her clients find the perfect vacation experiences. Now, she contributes her knowlege and experience here now too, sharing her expertise in social interaction, travel, leisure, and relationships to help those in our Couple Places community.
About James Hills:
With more than 20 years in corporate marketing, including serving as Social Media Director for e-commerce brands such as ProFlowers and Shari's Berries where his focus was on engaging with customers looking to maintain strong relationships, passionate romances, and celebrate special occasions.
After leaving the corporate world, James launched a series of websites promoting men's lifestyle and travel topics. He knew though that there was something missing ...
As a happily married man who loves to travel with his wife and share incredible experiences with those around them, he realized that there needed to be something else in their portfolio of websites.
That's why CouplePlaces.com was created ...
This site is a space for Heather and him to share a combination of travel adventures and relationship advice to hopefully help other couples develop as strong of a relationship as he and Heather do!
We are far from perfect, but we work hard to improve upon our mistakes and believe strongly in the art of continual improvement in all aspects of life. Hopefully, by sharing our knowledge and experiences with you - and others in the CouplePlaces.com community we can make an impact in ways that quite honestly didn't fit right in our other sites (ManTripping.com, MenWhoBlog.com, CruiseWestCoast.com, FlowVoyages.com, FlowMediaMarketing.com).
We can't do it alone though!
Other Contributors:
We welcome a variety of inputs but we also recognize that some subjects that involve couples, relationships, sexuality, and romance may include subject matter experts who wish some level of anonymity even though they are able to contribute excellent content that is helpful for couples who are working through various sensitive subjects.
As such, some of our contributors have chosen to use pen names for their posts here.
S. Patel:
Hailing from the Philadelphia area, S is an active participant in the Tri-State "Lifestyle" space as well as a Sex and Dating coach for men. In his practice, he works with male clients from around the country to help encourge them to be more self confident when talking with women and present themselves better to prospective partners. His expert insights based on experiences related to dating, marriage, and divorce - as well as more "taboo" topics related to activities adult couples enjoy together such as swinging, polyamory, kink, and nude vacations make him one of our favorite authors.
Are you seeking an opportunity to share your travel experiences and relationship advice with like-minded couples?
Our website here is dedicated to exploring the connections between travel and building stronger relationships. Whether you're looking to contribute articles, offer sponsored trips, promote your destination by sending us press releases and images, share your expertise as a therapist, or participate in an interview, there are many ways for contributors to get involved.
Ways You Could Be Featured On Coupleplaces.com:
We look forward to working with brands as well as subject matter experts such as doctors, therapists, concierges, and others who share our passion for building stronger relationships through shared experiences.
Here are a few opportunities on how you can be involved ...
Guest Posts:
If you are a subject matter expert in the world of dating, sex, and romance or you've got great stories to tell that includes tips to offer other couples, then guest posting is a great way to get involved with the CouplePlaces community. You can write about exciting destinations you've visited or valuable tips that others might appreciate about keeping their relationships strong.
Sponsored Posts:
Another effective way to be featured on CouplePlaces.com is through sponsored posts. This allows business owners and bloggers who want to promote their services or products directly from the website itself. It's an excellent way for businesses that specialize in travel and hospitality to reach their target audience and help turn readers into customers.
Product Reviews:
We are open to featuring product reviews for items that couples can use as part of a romantic relationship or while doing shared experiences such as cooking and traveling. This can include romantic gifts, food, wine, and travel gear as well as adult toys and games that couples can enjoy in the bedroom together.
Fam Trips:
Fam trips are also available for marketers and journalists who want an up-close look at destinations worldwide before recommending them to others. It's an excellent opportunity for partners in the tourism industry and first-hand experience with CouplePlaces' recommended hotels, tours, restaurants, and more!
We are based in Southwest Michigan and love midwest road trips to explore small towns and romantic getaways as well as city breaks to glam it up in Chicago, Detroit, Cleveland, and Indianapolis. However, we are also open to opportunities to explore around the world including All-Inclusive Resorts, Cruises, and Bucketlist Tours.
Press Releases and Images:
Finally, sending press releases and images to us that we can share on the website as well as use as background information when we are looking for new perspectives or expert sources to reach out to can be very helpful to us and great way for your to get your message out there.
For couples looking for interesting places around the world, or businesses wanting exposure in this niche market, Couple Places provides a great platform! By contributing content such as guest posts, sponsored posts, applying for fam trips or sending press releases – plenty of opportunities are available on this website!